Your set-up seems to fit well with the softener/filter combination placed in the plastic container.
I'm not familiar with the "Soft Cell" softener, but like yourself I use my "Flow-Pur" softener during Texas Hill Country winters with temps in the 20's and 30's without issue...., as long as the RV Park doesn't shut the water off during a hard freeze
I placed my softener in a HD orange bucket, wrapped with double-sided foil insulation as well over the top of the softener, then placed a heavy duty garbage bag over it for moisture protection. I do have a sealed heated hose connected to each side of the softener (inlet/discharge) which keeps the softener contents from freezing. It's my understanding these sealed heated hoses will keep water from freezing 30" past the connection point (?).
I have an in-line filter connected between the shore water spigots and the sealed heated hose connection. The in-line filter and spigots are wrapped in double-sided foil insulation as well.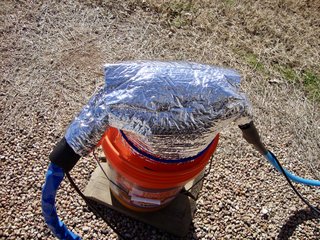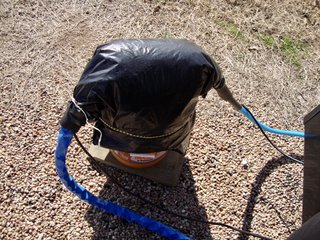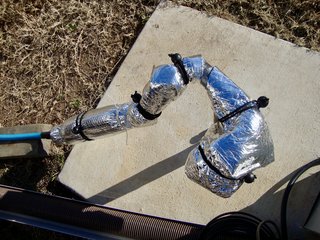 I leave the softener in the bucket during storage, transport, and back-flushing/recharging (remove top foil insulation).
Bob
__________________
2016 GM 2500HD 6.0L/4.10
2018 Jay Flight 24RBS
2002 GM 2500HD 6.0L/4:10 (retired)
2005 Jayco Eagle 278FBS (retired)
1999 Jayco Eagle 246FB (retired)
Reese HP Dual Cam (Strait-Line)