I just made a 2500 mile trip from Houston to Middlebury, IN this week. My truck does not have a navigation system so I thought it best to invest in a unit to help me get there and back safely. It also helps keep the peace with the GF. It was a great mediator and relieved my GF of the responsibility of navigating.
This unit has voice command, traffic monitoring, blutooth\phone support, and several other features. I can not believe how accurate the maps were, the quality of the graphics, the quantity of information that covers your speed, travel distance, estimated time of arrival, how many miles left to arrive, and more.
The voice command worked flawlessly. The voice recognition is impressive. It will find cities, and address, last points entered, points of interest, etc.
It also linked with my phone via blutooth so that I had hands free communication for both incoming and outgoing calls. This was a real treat to have when pulling a 40 foot trailer behind you. The further north I got, the worse the roads became. Two hands on the wheel just made the trip that much safer.
The GPS took me down some really remote roads but I ALWAYS got where I was wanting to go and it NEVER took me on a wild goose chase. Its voice directions were clear and concise and always gave you time to move into the correct lane. Graphics would pop up on the right side showing you a picture of the exit sign and what it looked like. A real plus.
Trip data was easily accessible. It even remembers what your last 4 or 5 phone calls were so you could call them back with one push of a button. You may even be able to do it by voice command but I still have not had time to get completely schooled on ALL its features.
Battery life was never an issue and the mounting system worked without a hitch. It was also easy to remove for safe storage overnight. I do not like leaving all the cabling or suction cup in the window or in the truck just so I do not announce what I have.
They make bigger screens but I never felt like the screen was too small at 5 inches. The color graphics were more than adequate and the resolution was fine for me. Once again, they make higher resolution units but I never felt short changed. It has free lifetime map updates, school zone warnings (this was a very welcome feature in small towns where you are not used to the schools or the times they are active), and points of interest information that amazed me. How it stores ALL that information and finds it with just a voice command is impressive. Just tell it an address and it finds it. AMAZING. No one complained that they could not hear me or understand me using the built in mic and speaker.
I had a TomTom several years ago but it got stolen. It was a good unit but it did not have near the features of the Garmin Nuvi 57LMT.
I am VERY pleased with the price and function of this unit. That is high praise coming from me. I rarely find a product that does what it says it can do and do it so well. I highly recommend this unit to my friends, family, and fellow Jayco owners.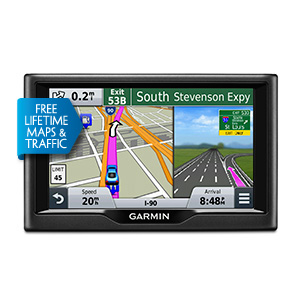 __________________

__________________

2016 Jayco Eagle 330RSTS = "Madame Maxime"

Maxxis M8008 E rated Tires and 16" Wheel Upgrade

Dual A/C 15K BTU, 14K Equalizer WD hitch with SC

King Bed with Java Interior, (2X) Yamaha EF2000isV2

2012 Ram 4500, 6.7L Cummins Turbo Diesel, MegaCab = "Hagrid"

8'x12' BMCM Stake Bed, Cabin Chassis, 2WD

360 degree Virtual Tour